Portable Medical Diagnostic Computer For Rural Health Care in Developing Countries
1970 - 1978
Project History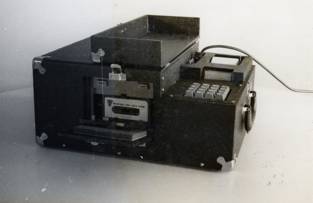 Between 1970 and 1975 Hanon Sinay, M.D. personally designed, built, and patented both the hardware and the software for the "Portable Medical Diagnostic Computer", U.S. Patent 4,290,114, (applied for: July1, 1976; issued: September 15, 1981).
Dr. Sinay was motivated by social concerns. The system was designed to provide health care in rural areas of developing countries, where medical services were otherwise not available.
It weighed 15.9 kilograms, was powered by AC from public electric grid or by DC from a standard automobile battery, was controlled by the world's first microcomputer chip - the Intel 8008 - an eight-bit processor running at 800 kilohertz/second, and used 8000 eight-bit words of random access memory.
The internal components included: 1) a power conversion supply; 2) an "audio type" digital tape cassette recorder upon which the computer program and the coded Medical Disease and Treatment Files are stored; 3) the computer electronics board; 4) a sixteen key keyboard for numeric data entry; and 5) a printing unit for recording numeric data input and for numeric data output.
On October 5, 1973 Dr. Sinay formed a company, International Public Health Systems, Inc. from which he carried on his work. Attorney Jay G. Foonberg, and Investment Banker Sanford I. Drucker assisted in the business and promotional activities.
The operation of the system was basically simple. A paramedic would gather medical information using a paper form with printed graphics and numeric codes. The code numbers were entered using a 16 key numeric keypad. The device compared the numeric entries to numeric codes digitally stored on an "audio" cassette tape. The stored codes included 1) a pattern of coded findings and symptoms representing customized medical entities of relevant importance, and 2) associated numerically coded treatment actions to be taken. The numeric codes for the treatment actions were printed using a 10 digit numeric printer. The printed codes were manually compared to a paper list of drugs, therapies, and actions to be taken. In addition to the direct benefits for individual patients, the opportunity to gather medical information for central planning became possible.
Information about the availability of the Medical Diagnostic Computer was provided to representatives of Foreign Governmental Agencies, Foundations, and a variety of private agents for the purpose of establishing a pilot demonstration project.
In 1975 and 1976 the prototype Medical Diagnostic Computer was personally demonstrated to official representatives of three foreign governments in Latin America. Though there was interest, a pilot project was not established. Looking back upon those early experiences, the technology was truly in its' infancy and the market place was not yet ready. Dr. Sinay's ideas were forward thinking and headed in the right direction.
In 1978, with his personal funds nearly depleted, Dr. Sinay disbanded the corporation and returned to the practice of medicine specializing in pathology and laboratory information systems. Between 1978 and 1983 he directed the successful installation and implementation of the first computer laboratory information system at the Cedars Sinai Medical Center in Los Angeles. Between 1983 and 1997 he directed the Pathology Department at a community hospital in Southern California.
He retired from active medical practice in 1997, and since that time has been actively engaged in development of a newer version of the Portable Medical Diagnostic Computer utilizing current technology.
Dr. Sinay acknowledges and appreciates the assistance from his family, consultants, and trades people. Most notable is the patience, support, and collaborative work effort provided by his artist teacher wife Sue Ann.
More detailed information on the original 1975 Proposal for a RURAL HEALTH CARE SYSTEM, previously confidential and now public, is available for viewing on this web sight.